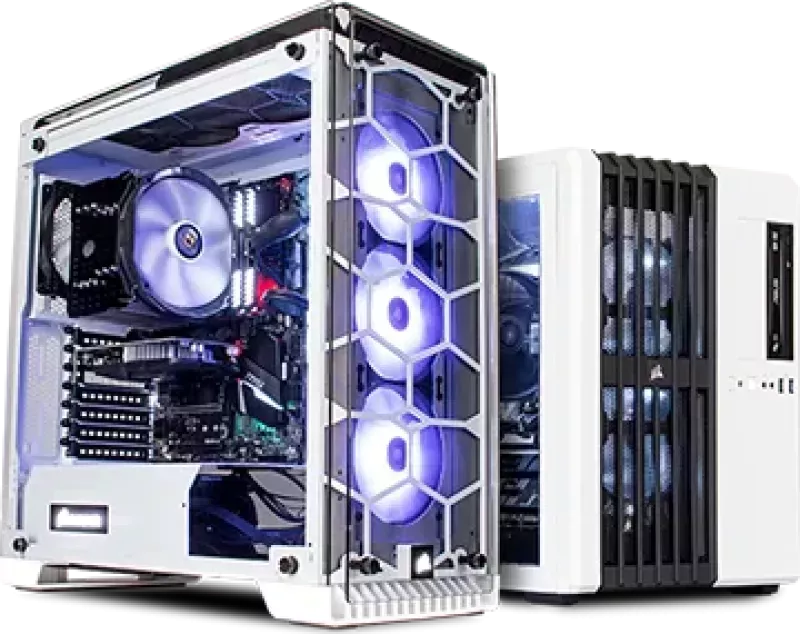 Gaming PC
Gaming PC: Buy cheap
Not all gaming PCs are the same. The hardware of our gamer PCs is already perfectly matched. If you want to individually assemble a gamer PC at a low price, Ankermann is the right place for you. With us you can configure and assemble any system with the best gaming PC components.
Sort by:
Price ascending
Name A-Z
Name Z-A
Price ascending
Price descending
Topseller
Looking for a cheap desktop gamer PC? We got it!
You need a powerful gamer PC to play current games smoothly in high resolution, no matter if Full HD, WQHD or even 4K. A good gamer PC consists of powerful components such as a fast processor, a first-class graphics card and fast RAM. We have a wide range of gamer PCs for every taste and budget: cheap gamer PCs for beginners, affordable mid-range gamer PCs for the budget-conscious gamer with a bigger budget up to high-end gaming PCs for hardware enthusiasts.
Purchase Gamer PC for less
A powerful graphics card with enough RAM is important so that you can enjoy the latest games smoothly in best WQHD or 4K quality. If you play graphics-intensive open-world games, the RAM of the gaming GPU is extremely strained. When you buy a gaming PC with an RTX graphics card, you benefit from NVIDIA's latest ray tracing technology. This new technology enables a high degree of immersion and realism. Of course, a gamer PC also needs a powerful CPU from the Intel Core or AMD Ryzen family. The processor of the desktop PC is the heart of a good gamer PC and, in combination with the graphics card, the most important component of a modern gaming PC.
The RAM is also important for a smooth, fluid graphics output: 16 GB DDR 4 RAM is now the standard for gaming computers. Fast SSDs help to quickly start the game. The turbo-fast M.2 SSD can be directly put into the motherboard and is thus not only extremely fast, but also does not occupy any slots.
Build a Gamer PC with the PC Configurator
You know exactly what you want your PC to look like? Then assemble it with one of our PC configurators in just a few clicks! Our configurators show which components are compatible with each other. This way you can easily configure your desired gamer PC and don't have to worry about compatibilities of the components.
Entry-level PC, mid-range computer or high-end gaming computer?
To put it simply, there are three classes of gamer PCs. While entry-level gamer PCs are usually quite inexpensive, mid-range computers offer the best price-performance ratio, and high-end gaming computers offer the best technology and performance.
Entry-level gaming PCs: Lots of performance for little money
Entry-level gamer PCs are the affordable entry into the world of gaming. They are based on mid-range CPUs like the Intel Core i3 and i5 processors or AMD Ryzen 3 and Ryzen 5 CPUs and use either the graphics solution integrated in the processor or an entry-level graphics card. Such an entry-level solution won't allow you to enjoy the latest games smoothly in Full HD, but e-sports games or indie games in medium resolution and medium detail levels are no problem for these systems.
The sweet spot: High-performance gamer PCs for the midrange budget
The PC has to run smoothly so that you can really enjoy games in all their glory. With mid-range gaming PCs with Intel Core i5 or i7 or AMD Ryzen 5 or Ryzen 7 processors, lags are history. Mid-range graphics cards from NVIDIA's GTX series or AMD's RX 5500 XT provide sufficient graphics performance. Full HD gaming is no longer a problem with such computers. Other graphics-intensive applications are also no problem for the mid-range gaming PC.
Full performance with our high-end gaming PCs
The upper end of the performance range of our gaming PCs is formed by computers with a high-performance CPU like an Intel Core i9 or AMD Ryzen 9 processor. This is complemented by a suitable high-performance graphics card like a GeForce RTX 3080 or 3090. With a gaming PC like this, you can not only play smoothly in 4K at high details, but also go on adventures in virtual reality.
Major components of the gamer PC: CPU & GPU and all the rest
Processor and graphics card are the two most important components of every gamer PC, but every chain is only as good as its weakest link. Therefore, you should not skimp on components like high-quality RAM, a good motherboard or an efficient and sufficiently sized power supply. A fast M.2 SSD as system data carrier speeds up your system considerably. Games which are installed on the SSD also load much faster than from HDD.
The look of your gamer PC - an important aspect
For many dedicated gamers, their gaming PC is not only an everyday object, but also a showpiece that is proudly displayed. Glass side windows, RGB light effects, case fans and graphics cards worth seeing ensure that your gaming PC becomes an eye-catcher.
Complete gamer PCs from Ankermann
We provide a wide range of cheap desktop PCs. No matter whether you are looking for a cheap gaming PC for 650€ or a self-assembled gamer PC for 7000€: At Ankermann you will find what you are looking for.
Buy affordable accessories for your gaming PC
Even the best gamer PC is worthless without a monitor. For high-resolution gaming, you need a 4K monitor. To compete in ego-shooters, you need a gaming monitor with a refresh rate of 144 or 165 Hz, which allows you to display more frames and therefore benefit from smooth gameplay. Equally important are a suitable gaming mouse and gaming keyboard. In order to be able to hear your opponent's every step, the right headset should not be missing. Discover the right peripherals for your gamer PC now.
Financing your gaming PC: Easy. Straightforward. With us.
We offer a wide range of payment options, from cash on pick-up to credit card, Paypal, Amazon Payments and the possibility to buy the PC on installments. This is how we make your purchase as easy and uncomplicated as possible.
Your advantages when you buy your gaming PC at Ankermann
We help you with your decision - call our free hotline
Our computers are a complete solution all from one supplier - the finished system arrives ready to use, the operating system and all drivers are installed and you can start right away. We do not install any annoying test versions or bloatware, your system is clean.
You get 24 months warranty not only on the components, but also on the service
We offer a premium pick-up service as an additional option for a fee: Your defective gaming PC will be picked up the next day by Go! Express. You inform us until 2 pm that your PC is defective. We will then arrange for your defective PC to be picked up the next day between 8am and 12pm (Monday-Friday). Your PC will be prioritized by our technical department after it arrives. As soon as we have found the error, you will receive a message on the same day, in which we will explain the error and discuss the next steps with you.
Our "special offers" that you can not refuse
The DAILY EXPRESS section contains offers of pre-configured systems, which are shipped with GO! Express on the same day if payment is received by 14:00, so that the gaming PC system arrives on the next working day (except Saturday).
Our "Mega Deals" stand for heavily discounted PCs at unbeatable prices, freshly selected for you by our technicians!
In addition, we have our "Hot Seller of the Week" with PC systems at the best price, each available for a short time only
The Daily Hot Deal showcases a specific system at a top price that will never return in the same configuration again.