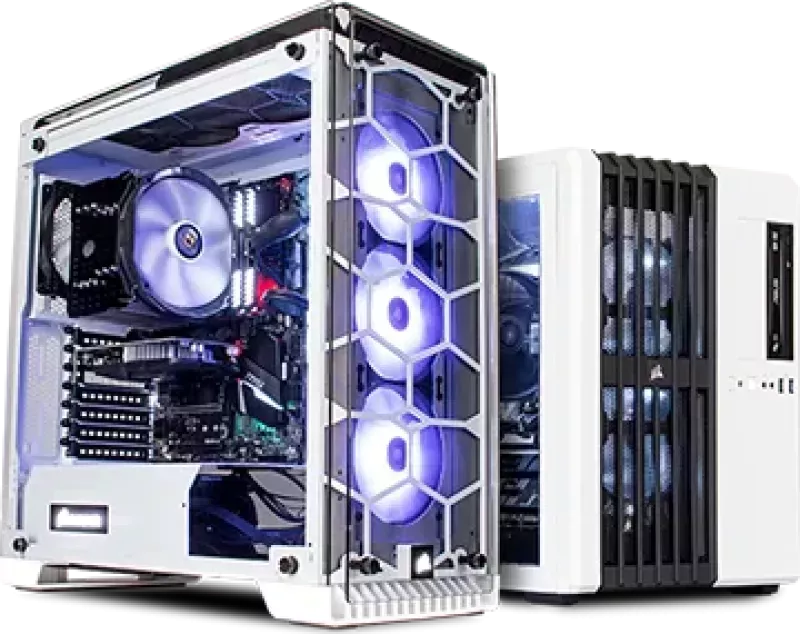 PC para juegos
Gamer PC: Comprar barato
No todos los PC para juegos son iguales. El hardware de nuestros PC para gamers ya está perfectamente adaptado. Si desea montar un PC gamer individual a bajo precio, Ankermann es el lugar adecuado para usted. Con nosotros, puede configurar y montar cualquier sistema con los mejores componentes de PC para juegos.
Ordenar por:
Precio ascendente
Nombre A-Z
Nombre Z-A
Precio ascendente
Precio descendente
Topseller
¿Busca un PC de sobremesa para jugadores barato? ¡Lo tenemos!
Para poder jugar a los juegos actuales en alta resolución con la mayor fluidez posible, ya sea Full HD, WQHD o incluso 4K, necesita un potente PC para jugadores. Un buen PC para jugadores está compuesto por componentes potentes, como un procesador rápido, una tarjeta gráfica de primera clase y una memoria RAM rápida. Aquí hay una amplia gama de PC para jugadores que se adaptan a todos los gustos y presupuestos: PC para jugadores baratos para principiantes, PC para jugadores de gama media asequibles para los jugadores con un presupuesto mayor, hasta PC para juegos de gama alta para los entusiastas del hardware.
Comprar PC Gamer barato
Una tarjeta gráfica potente con suficiente memoria RAM es importante para que pueda disfrutar de los últimos juegos con fluidez y con la mejor calidad WQHD o 4K. Si juega a juegos de mundo abierto con gran intensidad de gráficos, la memoria RAM de la GPU de juegos se ve sometida a un esfuerzo extremo. Al comprar un PC para juegos con una tarjeta gráfica RTX, se beneficia de la última tecnología de trazado de rayos de NVIDIA. Esta nueva tecnología permite un alto grado de inmersión y realismo. Por supuesto, un PC para jugadores también necesita una potente CPU de la familia Intel Core o AMD Ryzen. El procesador del PC de sobremesa es el corazón de un buen PC para jugadores y, junto con la tarjeta gráfica, el componente más importante de un PC moderno para juegos.
La memoria RAM también es importante para obtener una salida gráfica suave y fluida: 16 GB de memoria RAM DDR 4 es el estándar actual de los ordenadores para jugadores. Las rápidas unidades SSD ayudan a entrar en el juego rápidamente. La unidad SSD M.2 turbo-rápida puede conectarse directamente a la placa base, por lo que no sólo es extremadamente rápida, sino que además no ocupa ninguna ranura.
Construya un PC para jugadores con el configurador de PC
¿Sabe exactamente cómo debería ser el PC de sus sueños? Entonces, ¡ensamble todo con uno de nuestros configuradores de PC con sólo unos pocos clics! Nuestros configuradores muestran qué componentes son compatibles entre sí. Esto le facilita la configuración del PC para jugadores que desea y no tiene que preocuparse por la compatibilidad de los componentes.
¿Ordenador de gama básica, de gama media o de gama alta para juegos?
De forma simplificada, existen tres clases de PC para jugadores. Mientras que los ordenadores para jugadores de nivel básico suelen ser bastante económicos, los de gama media ofrecen la mejor relación calidad-precio y los de gama alta ofrecen la mejor tecnología y rendimiento.
PCs para juegos de nivel básico: mucho rendimiento por poco dinero
De forma simplificada, existen tres clases de PC para jugadores. Mientras que los ordenadores para jugadores de nivel básico suelen ser bastante económicos, los de gama media ofrecen la mejor relación calidad-precio y los de gama alta ofrecen la mejor tecnología y rendimiento.
La media de oro: PCs potentes para jugadores con un presupuesto medio
Para que pueda disfrutar realmente de los juegos en todo su esplendor, el PC debe funcionar con fluidez. Con los PC de gama media para juegos con procesadores Intel Core i5 o i7 o AMD Ryzen 5 o Ryzen 7, los retrasos son historia. En este caso, las tarjetas gráficas de gama media de la serie GTX de NVIDIA o la RX 5500 XT de AMD proporcionan un rendimiento gráfico suficiente. Con este tipo de ordenadores, los juegos en alta definición ya no son un problema. Otras aplicaciones de uso intensivo de gráficos tampoco son un problema para el PC de juegos de gama media.
Potente rendimiento con nuestros PCs para juegos de gama alta
El extremo superior del espectro de rendimiento de nuestros PC para juegos son los ordenadores con una CPU de alto rendimiento, como un procesador Intel Core i9 o AMD Ryzen 9. Esto se completa con una tarjeta gráfica adecuada de alto rendimiento, como una GeForce RTX 3080 o 3090. Con un PC para juegos de este tipo, no solo podrá jugar con fluidez en 4K con altos detalles, sino también vivir aventuras en realidad virtual.
Componentes importantes del PC para jugadores: CPU y GPU y todo lo demás
El procesador y la tarjeta gráfica son los dos componentes más importantes de todo PC para jugadores, pero cada cadena es tan fuerte como su eslabón más débil. Por lo tanto, no debe escatimar en componentes como una memoria RAM de alta calidad, una buena placa base o una fuente de alimentación eficiente y suficientemente dimensionada. Una rápida unidad SSD M.2 como soporte de datos del sistema acelera su sistema considerablemente. Los juegos instalados en el SSD también se cargan mucho más rápido que desde el HDD.
El diseño de su PC para jugadores: un aspecto importante
Para muchos jugadores de pura cepa, su PC para juegos no es sólo un objeto de uso cotidiano, sino también una decoración y se exhibe con orgullo. Las ventanas laterales de cristal, los efectos de luz RGB, los ventiladores de la carcasa y las tarjetas gráficas dignas de ver garantizan que su PC para juegos sea una atracción.
PCs completos para jugadores de Ankermann
Disponemos de una gran selección de ordenadores de sobremesa asequibles. No importa si busca un PC gaming barato por 650€ o un PC gamer auto montado por 7000€: Encontrará lo que busca en Ankermann.
Compre accesorios baratos para su PC de juegos
Ni el mejor PC para jugadores vale nada sin un monitor. Para jugar con la máxima resolución, necesita un monitor 4K. Para competir en los shooters en primera persona, necesita un monitor de juegos con una frecuencia de refresco de 144 o 165 Hz, con el que podrá mostrar más frames y, por tanto, beneficiarse de un juego suave como la mantequilla. Igualmente importantes son el ratón y el teclado para juegos adecuados. Para poder escuchar cada movimiento de su adversario, necesita los auriculares adecuados. Descubra ahora los periféricos adecuados para su PC de jugador.
Financiación de su PC para juegos: es sencillo. No es complicado. Con nosotros
Ofrecemos una amplia gama de opciones de pago, desde el cobro en efectivo hasta tarjeta de crédito, Paypal, Amazon Payments y la opción de comprar el PC a plazos. Así es como hacemos que la compra sea lo más sencilla y sin complicaciones para usted.
Sus ventajas al comprar su PC para juegos en Ankermann
Le ayudaremos en su decisión - llame a nuestra línea de atención gratuita
Nuestros ordenadores son una solución completa de un solo proveedor: el sistema terminado llega listo para usar, el sistema operativo y todos los controladores están instalados y usted puede empezar de inmediato. No instalamos ninguna versión de prueba molesta ni bloatware, el sistema está limpio.
Obtendrá 24 meses de garantía no sólo para los componentes, sino también para el funcionamiento del servicio
¡Ofrecemos un servicio de recogida premium como opción adicional de pago: su PC de juego defectuoso será recogido al día siguiente por Go! Express recogerá su PC para juegos defectuoso. Usted nos informa antes de las 14 horas de que su PC está defectuoso. A continuación, organizaremos la recogida de su PC defectuoso al día siguiente entre las 8 y las 12 horas (de lunes a viernes). Nuestro departamento técnico dará prioridad a su PC una vez que haya llegado a nuestras instalaciones. Tan pronto como hayamos encontrado la avería, recibirá un mensaje en el mismo día en el que le explicaremos la avería y discutiremos con usted los siguientes pasos.
Nuestras "ofertas especiales" que no podrá rechazar
Bajo el epígrafe DAILY EXPRESS encontrará ofertas de sistemas preconfigurados que, si el pago se recibe antes de las 14:00 horas, se enviarán el mismo día con GO! Express para que el sistema de PC para juegos llegue el siguiente día laborable (excepto el sábado).
Nuestras "Mega Deals" son ordenadores muy rebajados a precios inmejorables, recién seleccionados para usted por nuestros técnicos
Además, tenemos nuestro "Hot Seller of the Week" con sistemas de PC al mejor precio, que sólo están disponibles por un corto tiempo en cada caso
El Daily Hot Deal presenta un sistema determinado a un precio máximo que no se volverá a dar como éste.