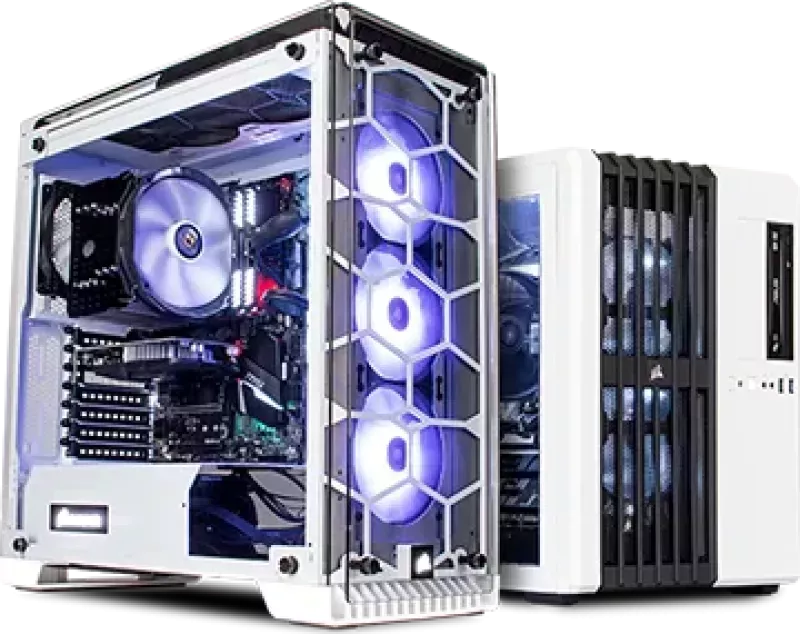 Gaming PC
Comprare PC Gamer a buon mercato
Non tutti i PC da gioco sono uguali. L'hardware dei nostri PC per giocatori è già perfettamente abbinato. Se desidera assemblare un PC da gioco individuale a un prezzo contenuto, Ankermann è il posto giusto per lei. Con noi, può configurare e assemblare qualsiasi sistema con i migliori componenti per PC da gioco.
Ordina per:
Prezzo crescente
Nome A-Z
Nome Z-A
Prezzo crescente
Prezzo decrescente
Topseller
Sta cercando un PC desktop per giocatori a prezzi accessibili? L'abbiamo!
Per poter giocare ai giochi attuali in alta risoluzione nel modo più fluido possibile, che si tratti di Full HD, WQHD o addirittura 4K, è necessario un PC da giocatore potente. Un buon PC per videogiocatori è composto da componenti potenti come un processore veloce, una scheda grafica di prima classe e una RAM veloce. Qui c'è un'ampia gamma di PC per videogiocatori, per soddisfare tutti i gusti e i budget: PC per videogiocatori economici per i principianti, PC per videogiocatori di fascia media per i giocatori attenti al budget e con un budget più elevato, fino ai PC per videogiochi di fascia alta per gli appassionati di hardware.
Comprare PC Gamer a buon mercato
Una scheda grafica potente con una RAM sufficiente è importante per poter godere dei giochi più recenti in modo fluido con la migliore qualità WQHD o 4K. Se gioca a giochi open-world ad alta intensità grafica, la RAM della GPU viene messa a dura prova. Quando acquista un PC di gioco con una scheda grafica RTX, beneficia della più recente tecnologia di ray-tracing di NVIDIA. Questa nuova tecnologia consente un elevato grado di immersione e di realismo. Naturalmente, un PC per giocatori ha bisogno anche di una CPU potente della famiglia Intel Core o AMD Ryzen. Il processore del PC desktop è il cuore di un buon PC per giocatori e, insieme alla scheda grafica, il componente più importante di un moderno PC da gioco.
Altrettanto importante per una resa grafica fluida e burrosa è la RAM: 16 GB di RAM DDR 4 sono oggi lo standard per i computer dei giocatori. Gli SSD veloci aiutano a entrare rapidamente nel gioco. L'SSD M.2 turbo-veloce può essere inserito direttamente nella scheda madre e quindi non solo è estremamente veloce, ma non occupa nemmeno uno slot.
Assemblare un PC da giocatore con il configuratore di PC
Sa esattamente come dovrebbe essere il suo PC dei sogni? Poi lo metta insieme con uno dei nostri configuratori di PC con pochi clic! I nostri configuratori mostrano quali componenti sono compatibili tra loro. In questo modo è facile configurare il PC per giocatori che desidera e non deve preoccuparsi della compatibilità dei componenti.
PC entry-level, computer di fascia media o computer da gioco di fascia alta?
Semplificando, ci sono tre classi di PC per giocatori. Mentre i PC per videogiocatori entry-level sono solitamente abbastanza economici, i computer di fascia media offrono il miglior rapporto qualità-prezzo e i computer da gioco di fascia alta offrono la migliore tecnologia e le migliori prestazioni.
PC da gioco entry-level: tante prestazioni per pochi soldi
I PC per videogiocatori entry-level sono l'ingresso conveniente nel mondo del gioco. Si basano su CPU di fascia media come i processori Intel Core i3 e i5 o le CPU AMD Ryzen 3 e Ryzen 5 e utilizzano la soluzione grafica integrata nel processore o una scheda grafica entry-level. Con una soluzione entry-level di questo tipo, non è possibile godersi i giochi più recenti senza problemi in Full HD, ma i giochi e-sportivi o i giochi indie con una risoluzione media e un livello di dettaglio medio non sono un problema per questi sistemi.
La media d'oro: potenti PC per giocatori con un budget medio
Per poter godere davvero dei giochi in tutta la loro gloria, il PC deve funzionare in modo fluido. Con i PC da gioco di fascia media con processori Intel Core i5 o i7 o AMD Ryzen 5 o Ryzen 7, i ritardi sono ormai storia. Qui, le schede grafiche di fascia media della serie GTX di NVIDIA o RX 5500 XT di AMD offrono prestazioni grafiche sufficienti. Con questi computer, i giochi in full HD non sono più un problema. Anche altre applicazioni ad alta intensità grafica non sono un problema per il PC da gioco di fascia media.
Prestazioni potenti con i nostri PC da gioco di fascia alta
L'estremo superiore dello spettro di prestazioni dei nostri PC da gioco è rappresentato dai computer con una CPU ad alte prestazioni, come un processore Intel Core i9 o AMD Ryzen 9. A ciò si aggiunge una scheda grafica adeguata ad alte prestazioni, come una GeForce RTX 3080 o 3090. Con un PC da gioco di questo tipo, non solo potrà giocare in modo fluido in 4K ad alti dettagli, ma anche vivere avventure in realtà virtuale.
Componenti importanti del PC per videogiocatori: CPU e GPU e tutto il resto
Processore e scheda grafica sono i due componenti più importanti di ogni PC per videogiocatori, ma ogni catena è buona solo quanto il suo anello più debole. Pertanto, non deve lesinare su componenti come una RAM di alta qualità, una buona scheda madre o un alimentatore efficiente e sufficientemente dimensionato. Un'unità SSD M.2 veloce come supporto dati del sistema accelera notevolmente il suo sistema. Anche i giochi installati sull'SSD si caricano molto più velocemente rispetto all'HDD.
Il look del suo PC per videogiocatori - un aspetto importante
Per molti giocatori di razza, il loro PC da gioco non è solo un oggetto di uso quotidiano, ma anche una decorazione che viene esposta con orgoglio. Finestre laterali in vetro, effetti luminosi RGB, ventole del case e schede grafiche degne di nota assicurano che il suo PC da gioco sia un'attrazione per gli occhi.
PC completi per gamer di Ankermann
Abbiamo un'ampia selezione di PC desktop a prezzi accessibili. Non importa se sta cercando un PC da gioco economico a 650 euro o un PC da giocatore autoassemblato a 7000 euro: Da Ankermann troverà quello che sta cercando.
Acquisti accessori economici per il suo PC da gioco
Anche il miglior PC per giocatori non vale nulla senza un monitor. Per giocare alla massima risoluzione, è necessario un monitor 4K. Per competere negli sparatutto in prima persona, ha bisogno di un monitor da gioco con una frequenza di aggiornamento di 144 o 165 Hz, con cui può visualizzare più fotogrammi e quindi beneficiare di un gioco fluido come il burro. Altrettanto importanti sono il mouse e la tastiera da gioco giusti. Per poter sentire ogni mossa del suo avversario, ha bisogno delle cuffie giuste. Scopra subito le periferiche giuste per il suo PC da giocatore.
Finanziare il suo PC da gioco: semplice. Non complicato. Con noi.
Offriamo un'ampia gamma di opzioni di pagamento, dai contanti al momento del ritiro alla carta di credito, Paypal, Amazon Payments e l'opzione di acquistare il PC a rate. In questo modo rendiamo il suo acquisto il più semplice e senza complicazioni.
I suoi vantaggi quando acquista il suo PC da gioco da Ankermann
La aiuteremo nella sua decisione - chiami la nostra hotline gratuita
I nostri computer sono una soluzione completa da un'unica fonte: il sistema finito arriva pronto all'uso, il sistema operativo e tutti i driver sono installati e lei può iniziare subito. Non installiamo nessuna versione di prova o bloatware fastidioso, il sistema è pulito.
Riceve una garanzia di 24 mesi non solo sui componenti, ma anche sulle prestazioni del servizio
Offriamo un servizio di ritiro premium come opzione aggiuntiva a pagamento: il suo PC da gioco difettoso sarà ritirato il giorno successivo da Go! Express ritirerà il suo PC da gioco difettoso. Ci informi entro le 14.00 che il suo PC è difettoso. Organizzeremo quindi il ritiro del suo PC difettoso il giorno successivo, tra le 8.00 e le 12.00 (dal lunedì al venerdì). Il suo PC sarà considerato prioritario dal nostro reparto tecnico dopo il suo arrivo. Non appena avremo individuato il guasto, riceverà un messaggio il giorno stesso in cui le spiegheremo il guasto e discuteremo con lei i passi successivi.
Le nostre "offerte speciali" che non può rifiutare
Sotto la voce DAILY EXPRESS troverà offerte di sistemi preconfigurati che, se il pagamento viene ricevuto entro le ore 14:00, saranno spediti il giorno stesso con GO! Express, in modo che il sistema PC da gioco arrivi il giorno lavorativo successivo (escluso il sabato).
I nostri "Mega Deals" sono PC fortemente ridotti a prezzi imbattibili, appena selezionati per lei dai nostri tecnici.
Inoltre, abbiamo il nostro "Hot Seller of the Week" con sistemi PC al miglior prezzo, che in ogni caso sono disponibili solo per un breve periodo di tempo.
Il Daily Hot Deal introduce un determinato sistema ad un prezzo top che non si ripeterà mai più, come questo.