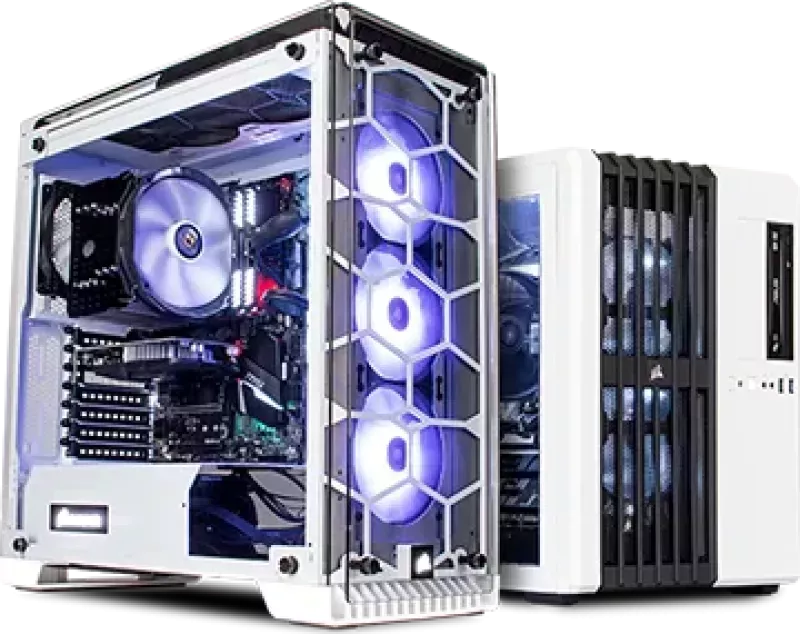 PC de jeu
Acheter un PC de jeu pas cher
Tous les PC de jeu ne se ressemblent pas. Le matériel de nos PC gamer est déjà parfaitement adapté mutuellement. Si vous souhaitez configurer un PC de gamer à un prix avantageux, vous êtes à la bonne adresse chez Ankermann. Chez nous, vous pouvez configurer et assembler n'importe quel système avec les meilleurs composants de PC de jeu.
Trier par:
Prix ​​croissant
Nom A-Z
Nom Z-A
Prix ​​croissant
Prix ​​décroissant
Topseller
Vous cherchez un PC de bureau pour gamer à un prix avantageux ? Nous l'avons !
Pour pouvoir jouer aux jeux actuels en haute résolution, que ce soit en Full HD, WQHD ou même 4K, vous avez besoin d'un PC de jeu puissant. Un bon PC pour gamers est construit avec des composants puissants tels qu'un processeur rapide, une carte graphique haut de gamme et une mémoire vive rapide. Vous trouverez ici un grand choix de PC gamer pour tous les goûts et tous les budgets : des PC gamer bon marché pour les débutants, des PC gamer de milieu de gamme pour les joueurs conscients de leur budget, et des PC gamer haut de gamme pour les enthousiastes du hardware.
Acheter un PC de gamer à bas prix
Pour profiter des jeux les plus récents en qualité WQHD ou 4K, il est important de disposer d'une carte graphique puissante et de beaucoup de RAM. Si vous jouez à des jeux en monde ouvert très riches en graphismes, la RAM du GPU de jeu sera extrêmement sollicitée. Lorsque vous achetez un PC de jeu avec une carte graphique RTX, vous bénéficiez de la toute dernière technologie de ray tracing de NVIDIA. Cette nouvelle technologie permet d'atteindre un haut niveau d'immersion et de réalisme. Un PC de gamer a bien entendu besoin d'un processeur puissant de la famille Intel Core ou AMD Ryzen. Le processeur de l'ordinateur de bureau est le cœur d'un bon PC de gamer et, avec la carte graphique, l'élément le plus important d'un PC de gamer moderne.
La mémoire vive est également importante pour obtenir des graphismes fluides et fluides: 16 Go de RAM DDR 4 sont désormais la norme sur les ordinateurs de jeu. Des SSD rapides aident à démarrer rapidement dans le jeu. Le SSD M.2 ultra-rapide peut être inséré directement dans la carte mère, ce qui le rend non seulement extrêmement rapide, mais aussi peu encombrant.
Configurez un PC de gamer avec le configurateur PC
Vous savez exactement comment vous voulez que votre PC soit ? Assemblez-le en quelques clics grâce à l'un de nos configurateurs de PC ! Nos configurateurs indiquent quels composants sont compatibles entre eux. Cela vous permet de configurer facilement le PC de jeu souhaité sans vous soucier de la compatibilité des composants.
PC d'entrée de gamme, ordinateur de milieu de gamme ou ordinateur de jeu haut de gamme?
Pour simplifier, il y a trois catégories d'ordinateurs de jeu. Alors que les PC de jeu d'entrée de gamme sont généralement assez bon marché, les ordinateurs de milieu de gamme offrent le meilleur rapport qualité/prix et les ordinateurs de jeu haut de gamme offrent la meilleure technologie et les meilleures performances.
PC de jeu d'entrée de gamme : beaucoup de puissance pour peu d'argent
Les PC gamers d'entrée de gamme sont une porte d'entrée abordable dans le monde du jeu. Ils sont basés sur des processeurs de milieu de gamme comme les processeurs Intel Core i3 et i5 ou les processeurs AMD Ryzen 3 et Ryzen 5 et utilisent soit la solution graphique intégrée au processeur, soit une carte graphique d'entrée de gamme. Avec une telle solution d'entrée de gamme, vous ne pourrez pas jouer aux jeux les plus récents en Full HD, mais les jeux de sport électronique ou les jeux indépendants en moyenne résolution et à un niveau de détail moyen ne posent aucun problème à ces systèmes.
Le juste milieu : des PC de gamers puissants pour les budgets moyens
Pour que vous puissiez vraiment profiter des jeux dans toute leur splendeur, votre PC doit fonctionner sans à-coups. Avec les PC de jeu de milieu de gamme équipés de processeurs Intel Core i5 ou i7 ou AMD Ryzen 5 ou Ryzen 7, les lags appartiennent au passé. Les cartes graphiques de milieu de gamme de la série GTX de NVIDIA ou la RX 5500 XT d'AMD garantissent des performances graphiques suffisantes. Avec de tels ordinateurs, le jeu en Full HD n'est plus un problème. Les autres applications graphiques intensives ne posent pas non plus de problème aux PC de jeu de milieu de gamme.
Des performances au top avec nos PC de jeu haut de gamme
Le haut de gamme de nos PC de jeu est constitué d'ordinateurs dotés d'un processeur hautes performances comme un Intel Core i9 ou un AMD Ryzen 9. Avec un tel PC de jeu, vous pouvez non seulement jouer de manière fluide en 4K avec des détails élevés, mais aussi partir à l'aventure en réalité virtuelle.
Composants essentiels du PC gamer : CPU & GPU et tous les autres
Le processeur et la carte graphique sont les deux composants les plus importants de tout PC de gamer, mais la performance de chaque chaîne dépend de son maillon le plus faible. C'est pourquoi vous ne devez pas négliger les composants tels que la mémoire vive de haute qualité, une bonne carte mère ou un bloc d'alimentation efficace et suffisamment dimensionné. Un SSD M.2 rapide comme support de données système accélère considérablement votre système. Les jeux installés sur le SSD se chargent également beaucoup plus rapidement que sur un disque dur.
Le look de votre PC gamer - un aspect important
Pour de nombreux joueurs passionnés, leur PC de jeu n'est pas seulement un objet du quotidien, mais aussi une décoration qu'ils exhibent orgueilleusement. Les fenêtres latérales en verre, les effets de lumière RVB, les ventilateurs de refroidissement et les cartes graphiques attirent l'attention sur votre PC de jeu.
PC complets pour gamers de Ankermann
Nous avons une large gamme de PC de bureau à bas prix. Que vous cherchez un PC de jeu pas cher à 650€ ou un PC de jeu personnalisé à 7000€ : Chez Ankermann, vous trouverez ce que vous cherchez.
Acheter des accessoires à bas prix pour votre PC de jeu
Même le meilleur PC de gamer n'est rien sans moniteur. Pour jouer en haute résolution, vous avez besoin d'un moniteur 4K. Pour être compétitif dans les jeux de tir à la première personne, vous avez besoin d'un moniteur de jeu avec un taux de rafraîchissement de 144 ou 165 Hz, qui vous permet d'afficher plus d'images et de bénéficier d'un jeu fluide. Une souris et un clavier de jeu appropriés sont également importants. Pour entendre les moindres mouvements de votre adversaire, le casque adéquat est indispensable. Découvrez maintenant les périphériques adaptés à votre PC de gamer.
Le financement de votre PC de jeu : simple. En toute simplicité. Chez nous.
Nous proposons de nombreuses options de paiement, du paiement en espèces à l'enlèvement à la carte de crédit, Paypal, Amazon Payments et la possibilité d'acheter votre PC en plusieurs fois. Ainsi, nous vous rendons l'achat aussi simple et facile que possible.
Vos avantages si vous achetez votre PC de jeu chez Ankermann
Nous vous aidons à prendre votre décision - appelez notre hotline gratuite
Nos ordinateurs sont une solution complète d'une seule source - le système fini arrive chez vous prêt à l'emploi, le système d'exploitation ainsi que tous les pilotes sont installés et vous pouvez commencer à travailler immédiatement. Nous n'installons pas de versions d'essai ou de bloatware, le système est propre.
Vous bénéficiez d'une garantie de 24 mois non seulement sur les composants mais aussi sur le service après-vente
Nous proposons une option supplémentaire payante, le service Premium Pick-Up: votre PC de jeu défectueux est pris en charge le lendemain par Go ! Express pour le récupérer. Vous nous informez avant 14 heures que votre PC est défectueux. Nous organisons alors l'enlèvement de votre PC défectueux le lendemain entre 8 et 12 heures (du lundi au vendredi). Une fois que votre PC est arrivé chez nous, il est traité en priorité par notre service technique. Dès que nous aurons trouvé l'erreur, vous recevrez un message le jour même, dans lequel nous vous expliquerons l'erreur et discuterons avec vous de la marche à suivre.
Nos "offres spéciales" que vous ne pouvez pas refuser
Dans la rubrique DAILY EXPRESS, vous trouverez des offres de systèmes préconfigurés qui seront envoyés le jour même par GO ! Express si le paiement est reçu avant 14h00, afin que le système PC de jeu arrive chez vous le jour ouvrable suivant (sauf samedi).
Nos "Mega Deals" sont des PC à prix réduits à des prix imbattables, fraîchement sélectionnés pour vous par nos techniciens!
Nous vous proposons également nos "Hot Seller of the Week" avec des systèmes PC au meilleur prix, disponibles pour une durée limitée
Nous vous proposons également nos "Hot Seller of the Week" avec des systèmes PC au meilleur prix, disponibles pour une durée limitée.